Amazing Thailand Amazing New Chapters Roadshow to China






FULLY BOOKED

DELEGATE LIST;
Andamanda Phuket
Aonang Ville Co.,Ltd
A-One The Royal Cruise Hotel
Awa Resort Koh Chang
Bangkok Dusit Medical Services (BDMS)
Bangkok Movenpick BDMC Wellness Resort Bangkok
Best Western Premier Bayphere Pattaya
Blue Tree Phuket, Pirate Girl Co.,Ltd
Cape and Kantary Hotels
C.C.T. Express Co.,Ltd
Central Pattana
Centre Point Hotel Sukhumvit 10
Chatrium Riverside Hotel
Chaweng Regent Beach Resort
Dusit Thani Laguna Phuket
Ever-Trans Travel Co.,Ltd
Free Journey International Co.,Ltd
Grande Centre Point Sukhumvit 55
Grande Centre Point Terminal 21
Grande Centre Point Ratchadamri Hotel
Grande Centre Point Space Pattaya
Grand Hyatt Erawan Bangkok
Grand Mercure Bangkok Atrium
Grand Palazzo Hotel Pattaya
Hard Rock Hotel Pattaya
Horizon Village & Resort
Hotspot International Travel Service (Thailand) Co.,Ltd
Hyatt Regency Bangkok Sukhumvit
Iconsiam Co.,Ltd
Kata Group Co.,Ltd
KC Beach Club & Pool Villas Samui
Kimption Kitalay Samui
La Flora Group
Namaka Resort Kamala
Nongnooch Village Co.,Ltd
Manopasu Assets Co.,Ltd
Mode Sathorn Hotel
One Origin Hospitality Co.,Ltd
Pattaya Floating Market Co.,Ltd
Phokeetra Resort & Spa Co.,Ltd
Rawi Warin Resort & Spa
Renaissance Pattaya Resort & Spa
SAii Laguna Phuket
Shangri-La Bangkok
Siam Niramit (Phuket) Co.,Ltd
Siam Park Bangkok Co.,Ltd
Silavadee Pool Spa Resort
Skyworld Adventure Co.,Ltd (Hanuman World)
Standard Tour
Thai Wan Xiang Travel Trade Group
Thai Airasia
Thai Vietjet Air
The Haad Tien Beach Resort (Modena Development Co.,Ltd)
The Naka Island, A Luxury Collection Resort & Spa
The Sukosol Bangkok
TOTAL BIZ CONNECT CO.,LTD
Twin Lotus Resort & Spa
Twinpalms Hotels & Resorts
Royal Cliff Hotels Group
Urbana estate co.,ltd
Vana Nava Co.,Ltd
Join "Amazing Thailand Amazing New Chapters Roadshow to China 2023"
(PHYSICAL ROADSHOW)
Event Schedule: Shanghai, Monday 20 February 2023
Chengdu, Wednesday 22 February 2023
Guangzhou, Friday 24 February 2023
KINDLY READ THE FOLLOWING INSTRUCTIONS CAREFULLY BEFORE COMPLETING THIS FORM
APPLICATION FEE: THB 30,000 for one company/maximum of 2 delegates for 3 events in Shanghai, Chengdu and Guangzhou
APPLICATION CONDITIONS
1. This event can accommodate only 60 companies. (DMC or Tour Operators 10 Companies, Attraction 15 Companies and Hotel 35 Companies)
2. The application is available from Monday 23 January 2023 at 10.00 AM and strictly treated on a first-come-first-served basis based on payment.
3. The exhibitor's name will not be allowed to change after Friday 10 February, 2023.
4. Please note that the provided information will be treated as confidential and is used for internal reference ONLY.
5. Please also note that the event details and all useful information will be sent after the application is closed.
How to register:
1. All sections of this application form must be completed. (Login to your Thai travel mart account and select "Join Now")
2. Once your request has been sent to [email protected] and got verified by TAT staff, you will be receiving the payment detail via email. Do not transfer the application fee without a confirmation from TAT.
3. Once you have paid the application fee, please submit evidence of payment to TAT by email, and also please enclose the address to issue and send receipt including your company TAX ID.
4. The application form is strictly treated on a first-come-first-served basis and will only be considered complete when the application fee is paid.
5. The payment must be done within 1 day after e-mail of payment process is sent to applicant
*Non-refundable for any cancellation. (Including any cause of travel rejection)
** For those who need a Chinese translator, there will be additional cost. **
*TAT does not assume, and expressly disclaims, any liability, direct or indirect, to you or any person, for your health and wellness, which occurs from COVID-19 or any infectious diseases, or any damages or injury caused by any failure of performance or incidental accidents. We disclaim any responsibilities for diagnosis and medical care expenses, or any expenses for health treatments. *
For more information, please contact:
East Asia Market Division, Asia 1 Team
E-mail: [email protected]

Ms. Natrudee Intatip
02 250 5500 Ext 1220 or 081 566 8309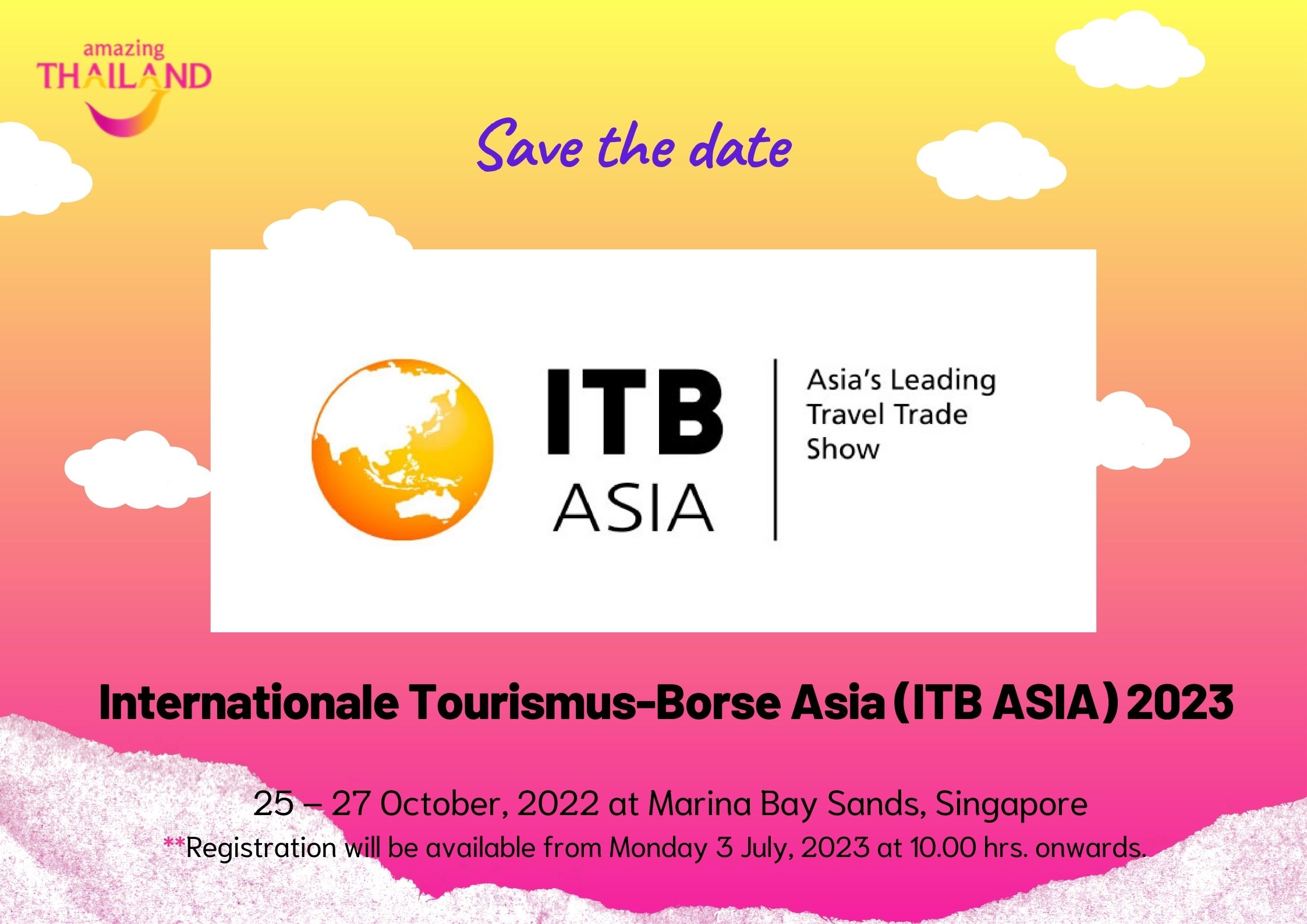 ITB ASIA 2023
ITB Asia is the premier meeting place for the travel trade industry and a forum for establishing high-quality customer contacts and conducting businesses.
25/10/2023 - 27/10/2023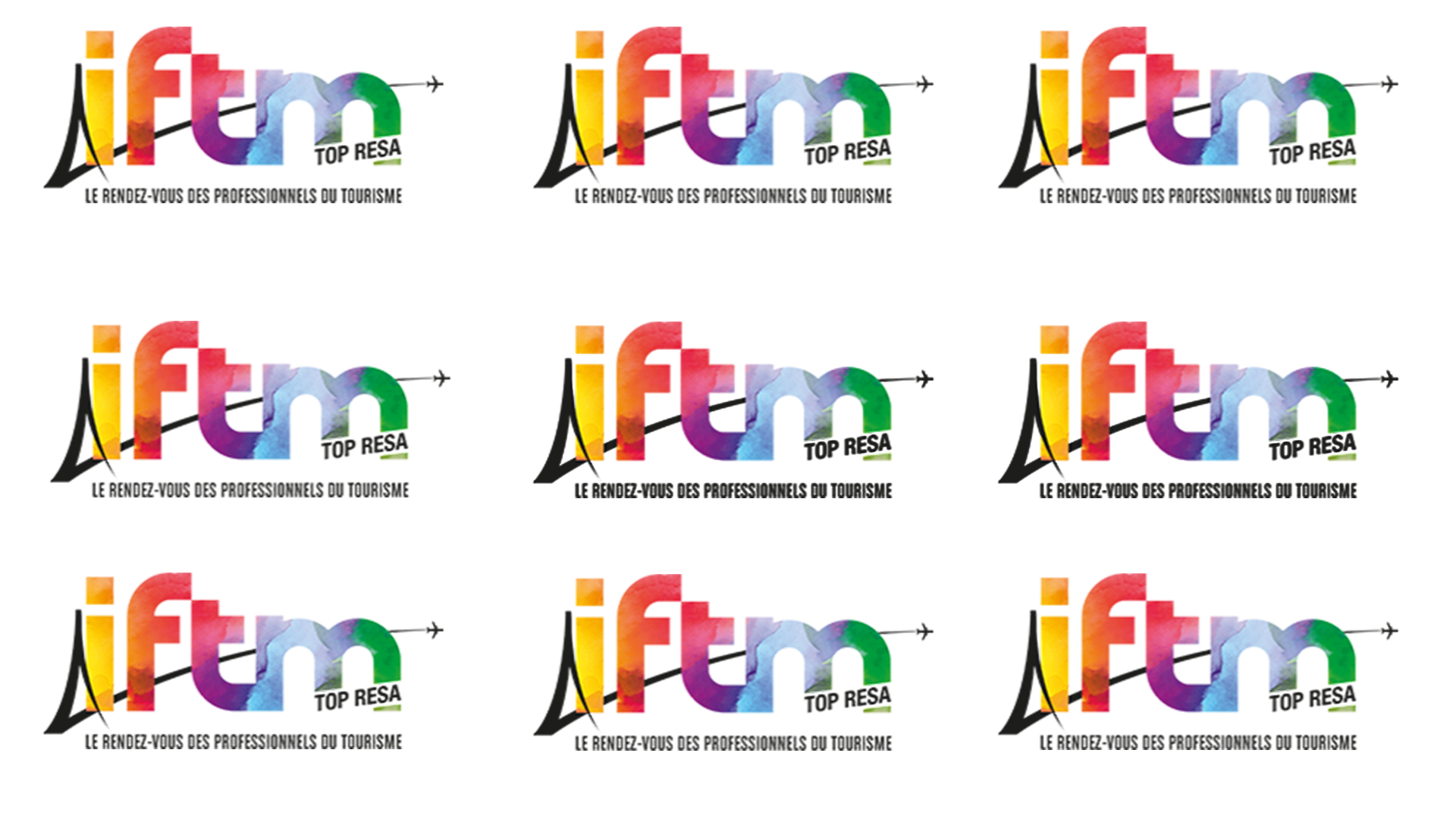 IFTM Top Resa 2023
IFTM Top Resa 2023 3-5 October 2023 Paris - Porte de Versailles
03/10/2023 - 05/10/2023

Amazing Thailand Latin America Trade Meet in Bangkok
Rare opportunity! Meet top agents from Latin America in Bangkok! Tuesday, May 2, 2023 (09.30-17.45 Hrs.) at The Athenee Hotel Bangkok APPLY ONLINE NOW AT: https://forms.gle/yP6UABXKP6noPQux7
02/05/2023 - 02/05/2023

Amazing Roadshow to China 2023, Phuket and the Andaman+
Phuket Roadshow to China 2023 Amazing Thailand the Andaman+
17/04/2023 - 21/04/2023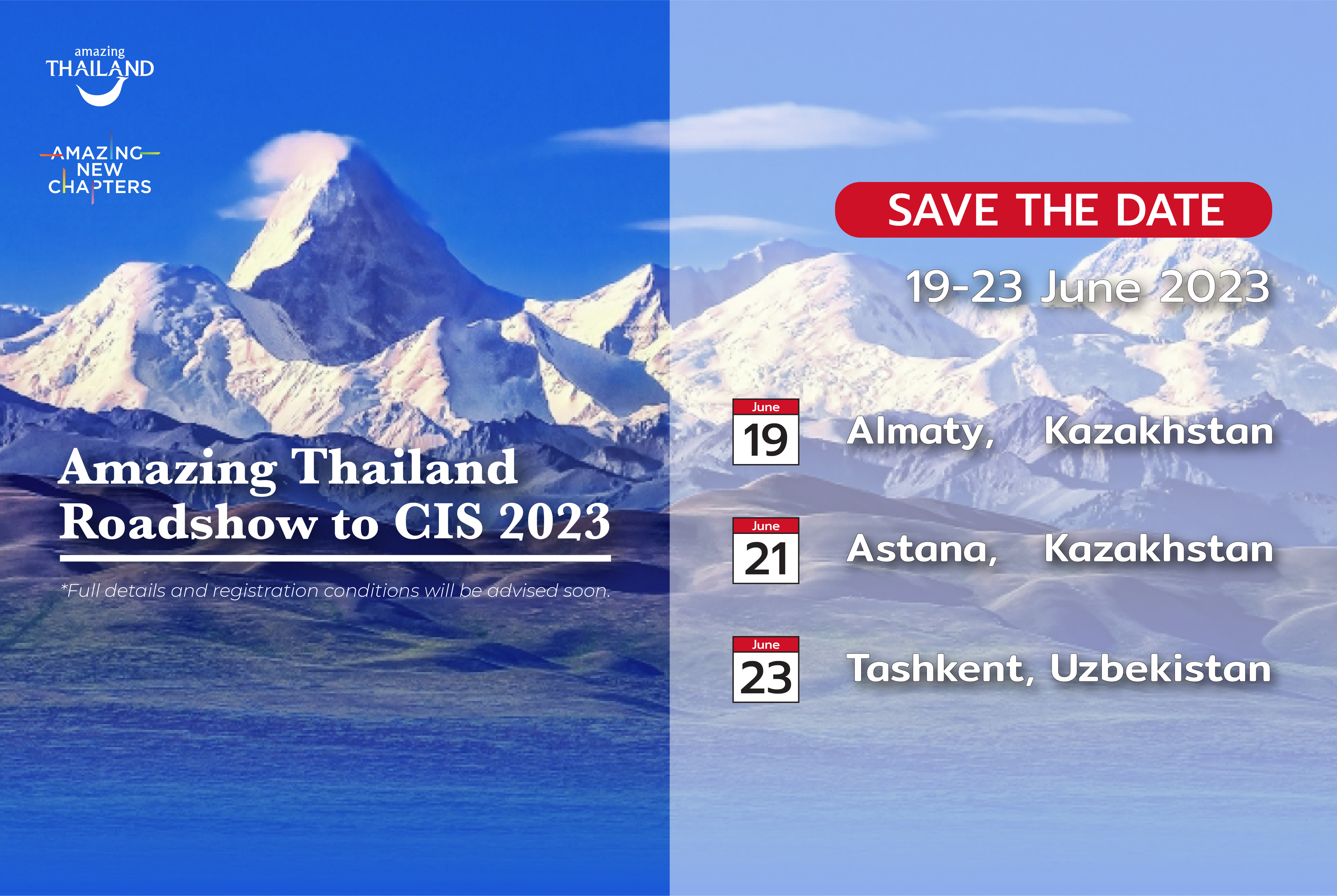 Amazing Thailand Roadshow to CIS 2023
19/06/23 Almaty, Kazakhstan 21/06/23 Astana, Kazakhstan 23/06/23 Tashkent, Uzbekistan The application will be available to register online on Thursday the 7th of April, 2023 at 10.00 hrs. onwards.
19/06/2023 - 23/06/2023