KITF 2023 21ST (KAZAKHSTAN INTERNATIONAL EXHIBITION)
Kazakhstan International Exhibition KITF has been held since the year of 2001. Nowadays, the Exhibition serves as a wide-ranging professional platform for the touristic industry of the whole Central Asian Region and is justly considered to be the pinnacle event of the touristic sector of Kazakhstan. Leading experts of the exhibition industry have assigned KITF with the reputable quality mark - UFI Approval (from the Global Association of the Exhibition Industry) for the conformity with the global standards of B2B platforms.
website: https://kitf.kz/en/
Please read the following instructions carefully before completing the application form
1. All sections of this application form must be completed (Login to your TTVM account and select join now).
2. After joining the event, kindly send the following evidences;
2.1 The company valid business license.
2.2 The company SHA Certificated
2.3. The company must have either sustainable/ responsible or environmental concerned programme such as
-CSR project
-receiving any certificates or awards during 2017 to presents for example Green Hotel/Green Leaf Hotel/ No single used plastic hotel/ Thailand Tourism Awards etc.
(please be reminded that the eligible company must have 3 mentioned evidences)
*kindly send us the mentioned evidences to [email protected]
3. Once the documents have been sent to [email protected] and got verified by TAT staffs, you will be receiving the payment detail via email. Please make the payment during the period of time and send the evidence of payment to [email protected] to confirm your participation in the event.


4. The application fee is 5,000 Thai baht per company with two (2) participants.
5. This event can accommodate only 5 companies;


6. No refund for any cancellation.


*TAT does not assume, and expressly disclaims, any liability, direct or indirect, to you or any person, for your health and wellness, which occurs from COVID-19 or any infectious diseases, or any damages or injury caused by any failure of performance or incidental accidents. We disclaim any responsibilities for diagnosis and medical care expenses, or any expenses for health treatments.
*No refund for any cancellation. (including any causes of travelling rejection)
CONTACT PERSON: Mr. Panakorn Nongpon
Europe, Africa and Middle East Market Division
12th Floor, Tourism Authority of Thailand
1600 New Phetchburi Road, Makkasan,
Rajthevee, Bangkok 10400
Tel: (66 2) 250 5500 ext.1264, 1271
E-Mail: [email protected]

Amazing Thailand Latin America Trade Meet in Bangkok
Rare opportunity! Meet top agents from Latin America in Bangkok! Tuesday, May 2, 2023 (09.30-17.45 Hrs.) at The Athenee Hotel Bangkok APPLY ONLINE NOW AT: https://forms.gle/yP6UABXKP6noPQux7
02/05/2023 - 02/05/2023

Proud Experience 2023
PROUD Experiences brings together leaders from the travel & lifestyle sectors to develop business strategies, expand LGBTQ+ understanding and connect with like-minded peers.
05/06/2023 - 07/06/2023

Phuket Roadshow to China 2023, the Andaman+
Phuket Roadshow to China 2023 Amazing Thailand the Andaman+
17/04/2023 - 21/04/2023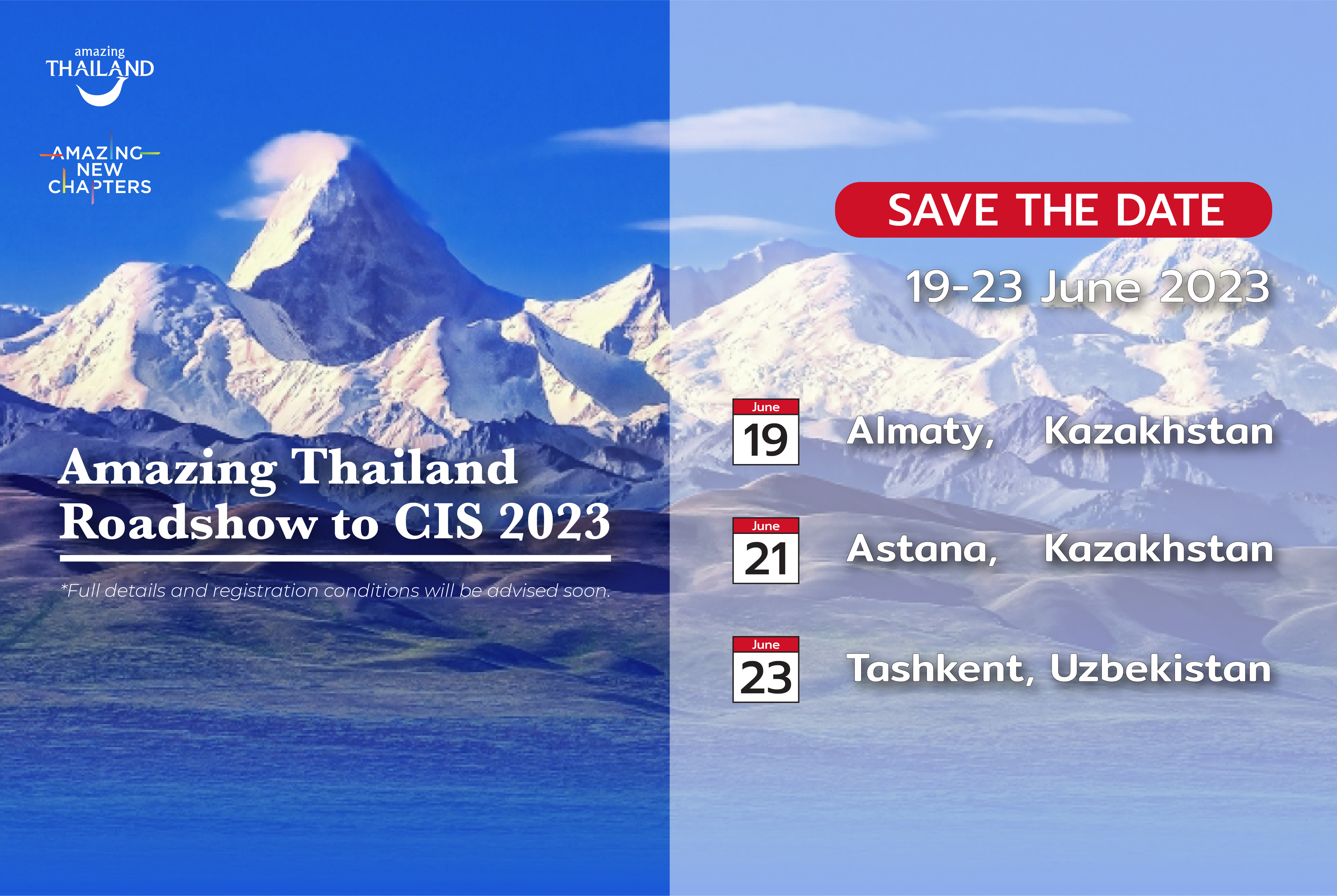 Amazing Thailand Roadshow to CIS 2023
19/06/23 Almaty, Kazakhstan 21/06/23 Astana, Kazakhstan 23/06/23 Tashkent, Uzbekistan The application will be available to register online on Thursday the 7th of April, 2023 at 10.00 hrs. onwards.
19/06/2023 - 23/06/2023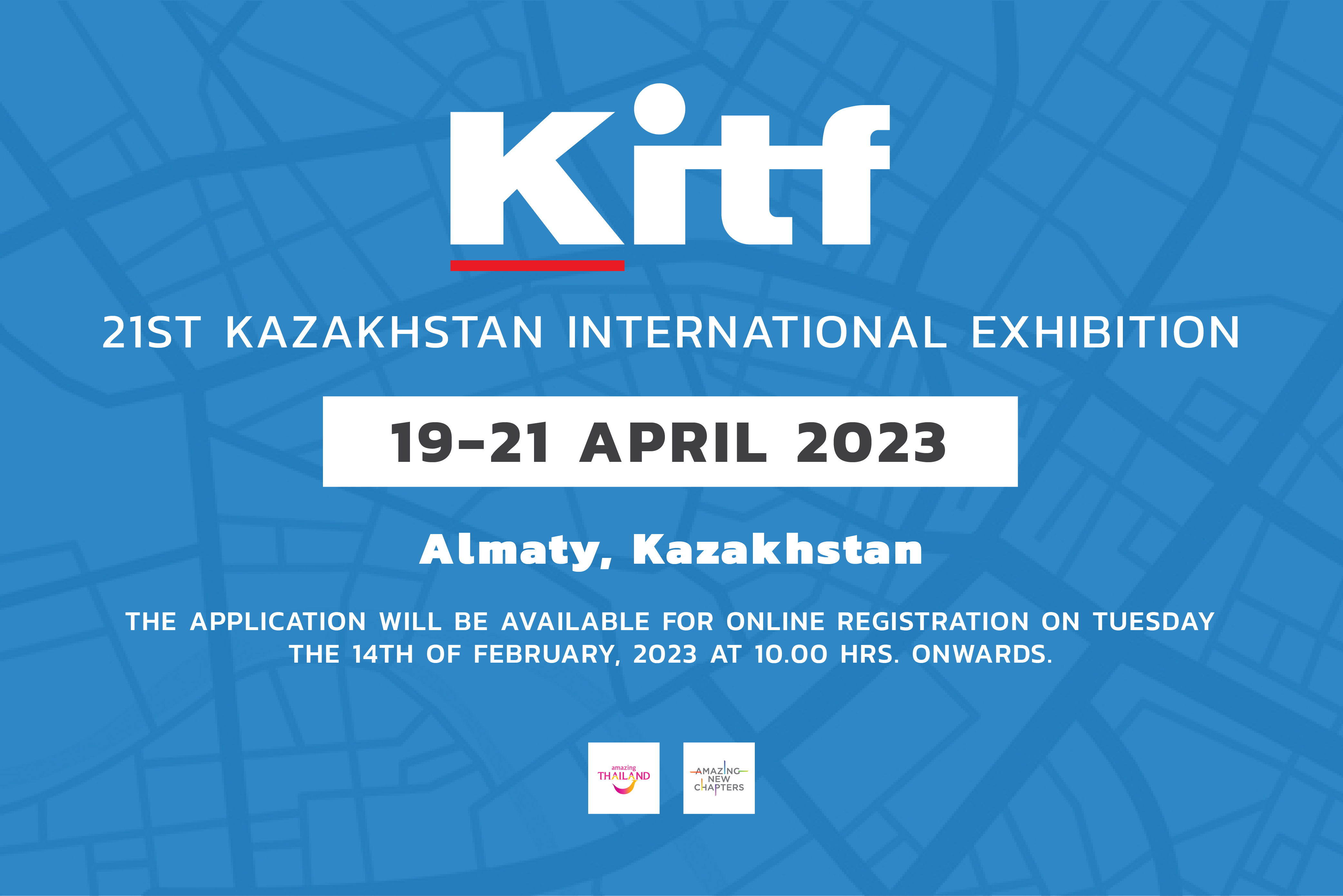 KITF 2023 21ST (KAZAKHSTAN INTERNATIONAL EXHIBITION)
19-21 APRIL 2023 The 21st Kazakhstan International Exhibition "Tourism and Travel" KITF, which will be held at the Atakent KCDS at 42 Timiryazev St., Almaty, Kazakhstan.
19/04/2023 - 21/04/2023