Proud Experience 2023
FACT SHEET & CONDITIONS
Proud Experience 2023: June 5 – 7, 2023, in Los Angeles, USA

Please read the terms and conditions, and follow the instructions carefully
before submitting the online application form
Event Date: 5-7 June 2023, at Fairmont Century Plaza, Los Angeles, USA
Event Website: https://www.proudexperiences.com
Transportation: Own arrangement.
Accommodation: Own arrangement.
Visa: Thai national is required to secure a US visa in order to travel or enter the US. The application form is available at https://ceac.state.gov/genniv/
Participation Fee: 20,000 Baht (1 participant/company) Each company will have a schedule with up to 34 appointments plus access to masterclass and networking events, for the 2 days of the event.
Application Period: 20-27 March 2023 (10.00 AM GMT+7)
Application Conditions :
1. For the Proud Experience 2023, the reserved space for the Thailand Stand will be able to accommodate 6 companies.
2. No more than ONE participant from each company.
3. All participants will travel at their own expense (air ticket, accommodation, transportation, visa, etc.)
4. All sections of this application form must be completed.
5. A tourist business license or hotel business license must be submitted to complete the application process before the status will be confirmed.
6. The application form is strictly treated on a first-come-first-serve basis and will only be considered complete when the participation fee is paid.
7. Once you have paid the participation fee, please submit evidence of the payment to TAT by e-mail.
8. The application deadline is March 27 2023. However, TAT reserves the right to end the application process when the space is fully booked.
9. No refund of participation fees and no change of the participant's name after March 29 2023.
10. Please note that the provided information will be treated as confidential and is used for internal reference ONLY.
Documents to be submitted:
1. Completed online application form.
2. Tourist business license or hotel business license.
3. Prove of payment to TAT.
Contact Person:
Ms. Nuttaya Onniam
The Americas Market Division
Tel. +66 (2)250 5500 ext. 1284
E-mail: [email protected]

Amazing Thailand Latin America Trade Meet in Bangkok
Rare opportunity! Meet top agents from Latin America in Bangkok! Tuesday, May 2, 2023 (09.30-17.45 Hrs.) at The Athenee Hotel Bangkok APPLY ONLINE NOW AT: https://forms.gle/yP6UABXKP6noPQux7
02/05/2023 - 02/05/2023

Proud Experience 2023
PROUD Experiences brings together leaders from the travel & lifestyle sectors to develop business strategies, expand LGBTQ+ understanding and connect with like-minded peers.
05/06/2023 - 07/06/2023

Phuket Roadshow to China 2023, the Andaman+
Phuket Roadshow to China 2023 Amazing Thailand the Andaman+
17/04/2023 - 21/04/2023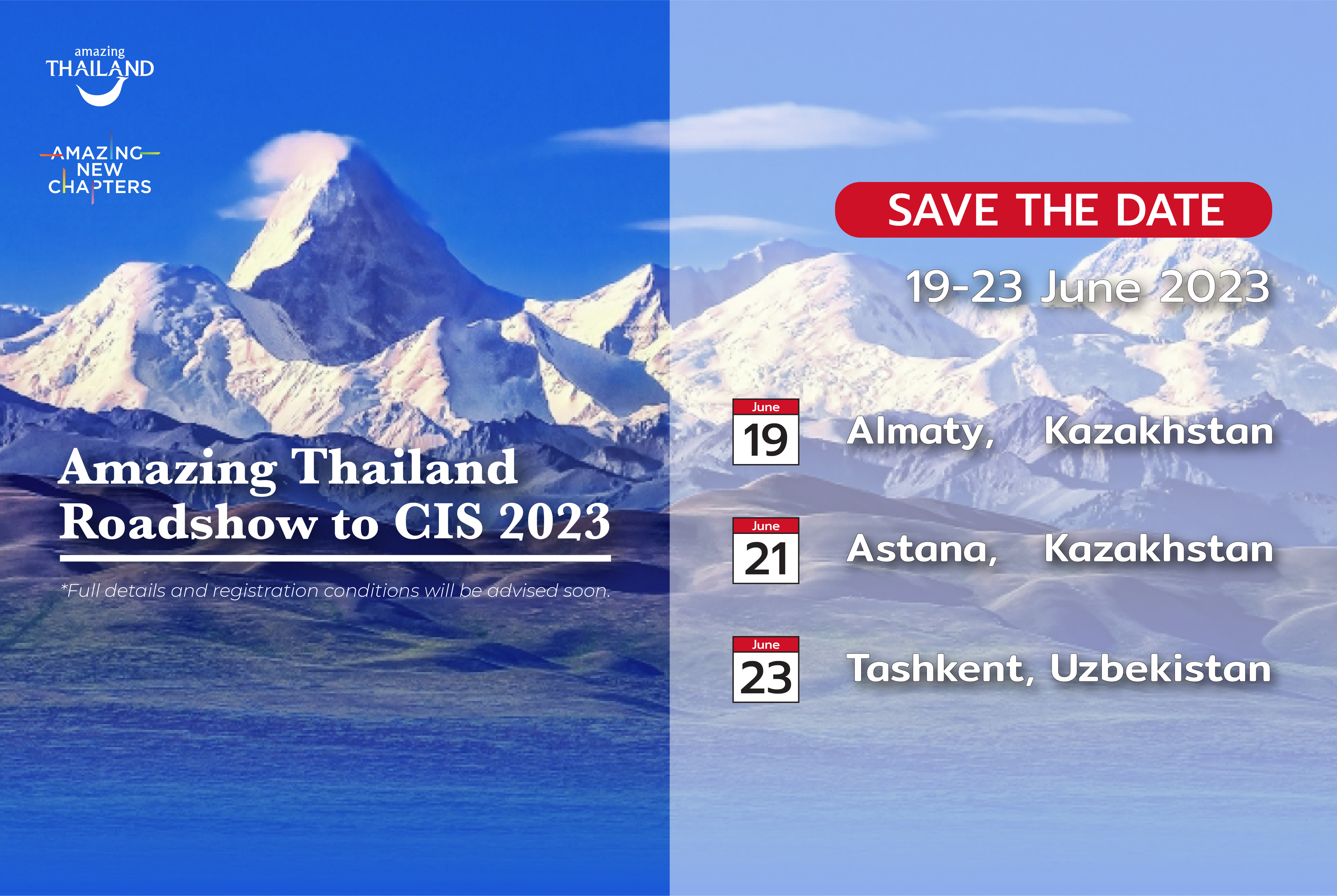 Amazing Thailand Roadshow to CIS 2023
19/06/23 Almaty, Kazakhstan 21/06/23 Astana, Kazakhstan 23/06/23 Tashkent, Uzbekistan The application will be available to register online on Thursday the 7th of April, 2023 at 10.00 hrs. onwards.
19/06/2023 - 23/06/2023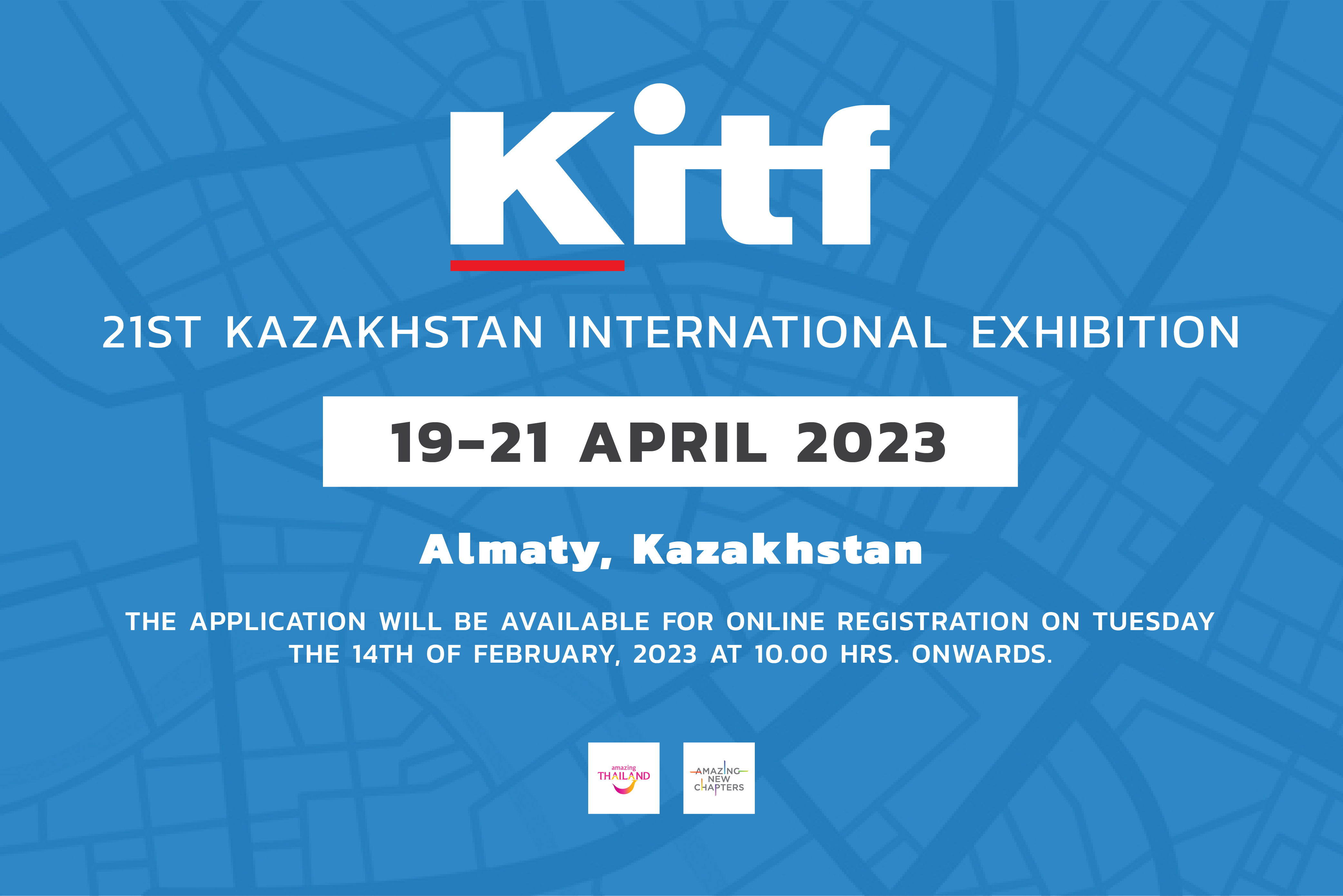 KITF 2023 21ST (KAZAKHSTAN INTERNATIONAL EXHIBITION)
19-21 APRIL 2023 The 21st Kazakhstan International Exhibition "Tourism and Travel" KITF, which will be held at the Atakent KCDS at 42 Timiryazev St., Almaty, Kazakhstan.
19/04/2023 - 21/04/2023